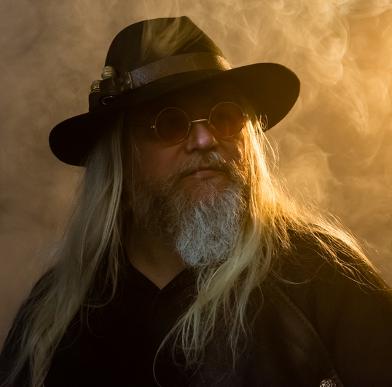 Clive Nolan - Writer, Composer, Producer
Clive is a British musician, composer and producer who has played a prominent role in the recent development of progressive and symphonic rock. He has been the regular keyboard player in Pendragon (1986 to present), Shadowland (1992 to present), Strangers on a Train (1993-1994), Arena (1995 to present) and Caamora (2006 to present) as well as writing music and lyrics. He is also the founder member of The Caamora Theatre Company.
The premiere of his first musical 'She' took place at the world-famous Katowice Wyspianski Theatre in Poland in October 2007, with further performances in Bolivia and Holland. 'She' debuted in the UK at the Cheltenham Playhouse Theatre in 2012.
Clive followed 'She' with his second musical 'Alchemy' - the first instalment of 'The Professor King Chronicles' - in 2013. In February 2013 the live show was recorded for DVD at the Wyspianski Theatre before full theatrical shows by the Caamora Theatre Company at the Cheltenham Playhouse that September. In 2013 and 2014 'Alchemy' headlined musical and theatre events in both the UK (CRS, Wath) and Holland (Zoetermeer) before heading to the Reichenbach in Germany. The CRS concert was nominated for the Best Live Act of 2014.
In October 2016 Clive staged concerts in Uruguay and Norway. The Norwegian show 'An Evening with Clive Nolan and Friends' was released on DVD in 2017. Clive's third musical, 'King's Ransom', will be released on DVD following its grand premiere at the Cheltenham Playhouse in September 2017.
Clive has been voted Best Keyboard Player by Classic Rock Society ten times since 1995. In 2010 the Bolivian Government awarded him Honorary Visitor to Santa Cruz, Bolivia for his theatre work. In 2013 he received the Polish MLWZ Golden Lexicon Award for Outstanding Achievements in Music for 'Alchemy'.
Photo by Neil Palfreyman
Neil Monaghan - Producer, Director
A producer, director and writer for film, theatre, television and radio, Neil trained with the BBC, working in post-production for the Films Department. He left to set up his production company Suspicious Character Films. He has written several award winning shorts as well as undertaking multiple feature commissions. His first feature, 'Made in Romania', a comedy 'mockumentary' about independent filmmaking, starred Jason Flemyng (X-Men), Jennifer Tilly (Bound), Danny Huston (Wonder Woman) and Elizabeth Hurley (Austin Powers).
His second feature, the bittersweet comedy 'With Friends Like These', featured an ensemble of international stars including Martin Kemp (Eastenders), Kate Ashfield (Shaun of the Dead), Carmen Electra (Baywatch), Adam Garcia (Coyote Ugly), Douglas Henshall (Shetland) and Burt Reynolds (Smokey and the Bandit), amongst others.
Neil's theatre work includes four plays staged at the Stephen Joseph Theatre, Alan Ayckbourn's famous theatre in Scarborough. 'Beautiful People' starred Gina Bellman (Leverage) and 'Dot's Net' was later adapted for broadcast on BBC Radio 4. His play 'Eye Contact' featured Kelly Brook and had a sell-out run at the Riverside Studios while '100' won an Edinburgh Fringe First Award and transferred to London's Soho Theatre before embarking on a world tour.
His screenwriting commissions include 'Kiss and Tell' for producer Mark Crowdy (Saving Grace, Doc Martin) and director Nigel Cole (Calendar Girls, Made in Dagenham).
Neil is currently preparing to make his film directorial debut with the British rom-com 'Two Wrongs', due toshoot on location in Brighton in 2018.